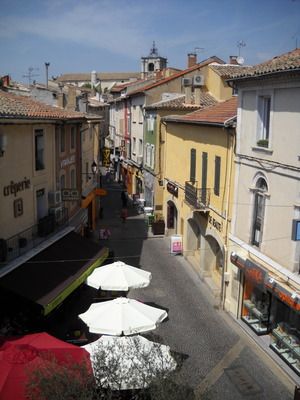 The village of L'Isle sur la Sorgue was built around the Notre Dame des Anges, a Collegial Church built in 1222 and reconstructed in the 17th century. The Sorgue flows from its source, seven kilometers upstream at the Fountain de Vaucluse. The river surrounds the town, creating the island on the Sorgue. 
La Sorgue was the source of the town's commerce through the ages. The Catholic calendar of the 15th century called for in excess of 160 meatless days per year, thus the fisherman and the town thrived providing the papacy and its supporting elements with fish. To this day it is crystal clear, maintains a temperature of 12-13 Celcius 
(53-55 Fahrenheit) year round and is a category one fishing river.
Mills were constructed and powered by water wheels for grain, paper mills, silk works and production of linens. There were at one time 70 water wheels in the town, 14 of which are still turned by the Sorgue's current.
Today you'll find what is regarded as the best antique market in France outside of Paris. On Sundays, the many antique dealers bring to town their wares to add to the already lively market. There are plenty of fresh fish, fruit and vegetable vendors on the streets and squares in the town on Sunday. Regional products of the season, such as honey and berries, are found along with cheese, sausages and local wines.  
L'Isle sur la Sorgue is a vibrant town. Off-season, when the tourists  have gone, the sidewalks do not roll up. There is still a large market on Sunday and a smaller one on Thursdays. The antique shops are open and the town fills up with bargain hunters scouring for a find and families picking up fresh produce, meats, fish and fruits for their tables. There are plenty of cafes, restaurants and small bars open year round.